MAKING THE MOST OF COSMETIC DENTISTRY IN THE FALL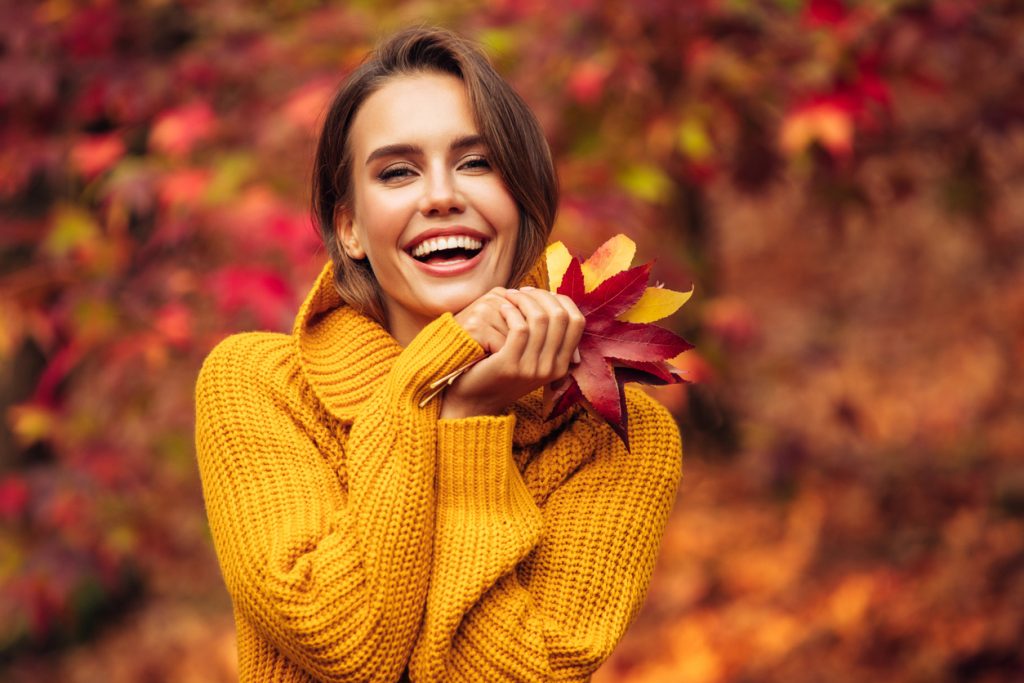 Fall is a time when many people move to a new area, return to school or begin new jobs. As such, many patients want to make a favorable first impression with a dazzling and youthful-looking smile. Cosmetic dentistry can help correct crooked, discolored, or malaligned teeth that are compromising your looks. Personalized aesthetic solutions include veneers, teeth whitening, and orthodontics, which each treatment tailored exclusively to your goals for improvement.
Cosmetic dentistry can address the following:
Stained or discolored teeth
Chipped or broken teeth
Gapped teeth
Teeth that are too large or too small
An uneven or asymmetrical smile
A disproportionate gum line
What are the most popular cosmetic dental procedures?
Porcelain veneers – Veneers are ultra-thin shells that cover the front part of the teeth, improving the look of your smile. A small portion of the tooth enamel is first removed so that the veneers fit perfectly. They require minimal maintenance and can restore a favorable appearance for years to come.
Dental crowns – Ceramic crowns help to conceal both cosmetic and structural defects in the teeth. They are an excellent choice for capping molars and front teeth that are chipped, cracked, broken, or poorly shaped. When cared for properly, crowns can last up to 15 years on average.
Dental bridges – When one or more teeth go missing, it can significantly compromise your smile. Bridges are tooth replacements made from several crowns fused together. They can be attached to either the natural teeth or to implants. Bridges restore order in the mouth, preventing the remaining teeth from shifting out of place and ensuring that your smile is appealing and attractive.
Teeth whitening – Patients have the option of undergoing teeth whitening either at the office or at home. Teeth whitening can provide a dramatic improvement in your smile, boosting your self-confidence both professionally and socially. The treatment can lighten your teeth anywhere from 2-8 shades.
Inlays and onlays – Inlays and onlays represent a middle ground between fillings and crowns. They can help strengthen the teeth and enhance the naturalness of the smile. Inlays will be placed between the cusps, while onlays can cover larger spaces (including the cusps).
Orthodontics – A poor bite can not only affect the cosmetic appearance of your smile but can also cause headaches and sleep problems. Orthodontic treatments can correct an overbite, an underbite, crooked teeth, and misaligned teeth, with treatment lasting from 6-24 months.
What is the takeaway?
Cosmetic dental treatments can help revive your smile and give you a new lease on life. Whether you're struggling with discolored teeth, crooked teeth, broken teeth, or a poor bite, the Fall can be an excellent time to address your appearance and turn over a new leaf. Call us today at Bayview Dental Arts to discover the best options for your goals!